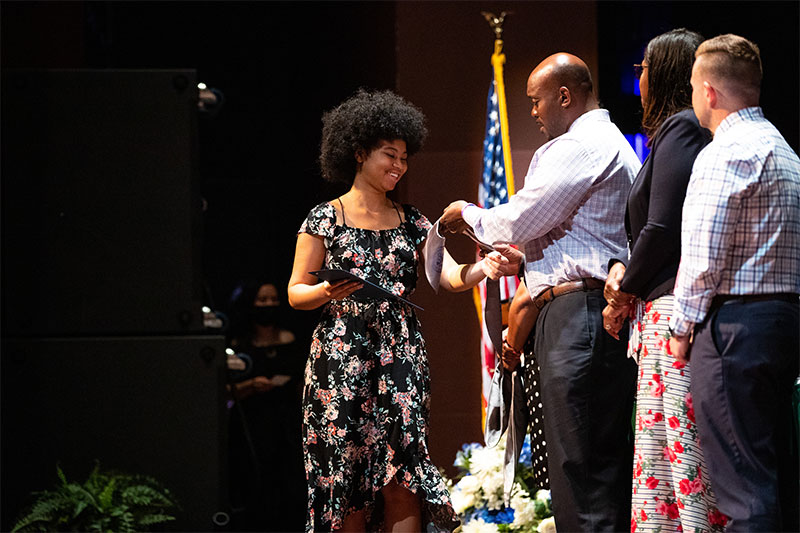 Read time:
---
With a blast of confetti and powerful words, the Christopher Newport community celebrated the hard work and accomplishments of the inaugural students in the Community Captains program.
The early admission program brings high-achieving Newport News Public Schools (NNPS) high school students to campus for two years of college preparatory activities. Students connect with university resources, programs, and a peer mentor throughout their two years, and take a college level course their senior year.
Students who successfully complete the program receive an offer of guaranteed early admission to Christopher Newport, where the mentorship continues.
One of the Class of 2025 Captains is Briana Terry. A graduate of Heritage High School, she said that Community Captains opened her eyes to the resources that Christopher Newport offers, solidifying her choice to continue her academic career here. She plans to major in business administration and some day own her own business.
"Before Community Captains, I didn't really know which college I wanted to go to, but I knew I wanted to learn more about CNU," Terry said. "We've been able to tour campus and hear from guest speakers, which really stood out to me – the faculty is so nice. I felt at home here."
Terry and 77 other NNPS high school students made up the first group, and eighteen are headed to Christopher Newport in the fall to begin their college careers.
Rector Robert Hatten provided the keynote address, tying the accomplishments of the university's namesake, Captain Christopher Newport, to the work ahead for all Community Captains graduates.
"Each of you has the potential to be a Captain," he said. "We call ourselves Captains at Christopher Newport because Captains are leaders. Leaders have ambitious goals. Leaders are educated. Leaders accept responsibility, and leaders care about other people. We want all of that for you, and everyone here today is cheering for you."
NNPS Superintendent Dr. George Parker lauded the partnership between NNPS and Christopher Newport, something he said he has not seen elsewhere during his career.
"When we first talked about launching the program, President Trible said the CNU family was committed to doing everything in our power to help our students learn and grow while deepening the bond between the university and our school community," Parker said, acknowledging that the plans had come to fruition. "Our students were afforded many opportunities and advantages."
Christopher Newport Provost Dr. Dave Doughty offered academic advice to help the students succeed in higher education: get to know your professors; spend 25 hours per week on academics outside of the classroom; and take advantage of out-of-class learning opportunities.
"Four years from now you will have graduated, and my wish for each of you is that you will be successful on your chosen career path," Doughty said. "But I also hope that you will live a life of significance, that you will make a positive impact on the lives of those around you, and there's no better way to get started on that than to begin serving as a college student. Each of us needs to learn how our unique abilities and interests can lift up any community in which we find ourselves."
Christopher Newport's Chief Diversity, Equity and Inclusion Officer, Dr. Angela Spranger, expressed thanks to everyone involved in the program. The list included Dr. Claudia Hines, director of school counseling and equity for NNPS, who is retiring this year. Spranger and others praised Hines as a cornerstone of the program.
"Thank you Dr. Hines, thank you school counselors, directors, thank you families, thank you CNU faculty, leadership, administrators, events team, for all you've done to get us to this fantastic moment of celebration," Spranger said. "It really is a joyful moment."
---