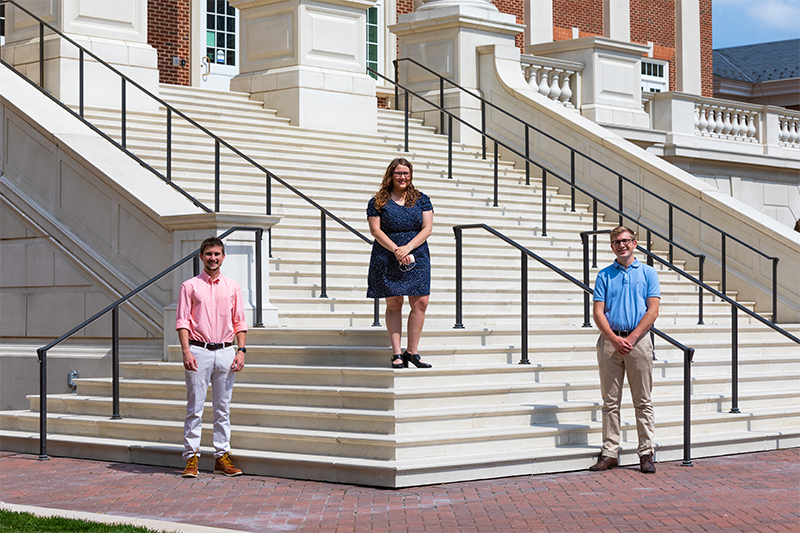 Read time:
---
Seven Christopher Newport University economics majors have been inducted into Omicron Delta Epsilon (ODE), the international honor society for economics students.
Admission to ODE is by department invitation only and requires outstanding academic achievement in economics, at least 24 credit hours earned in economics coursework and an overall GPA of at least 3.4.
The inductees include: Holly Foster, David Harrop, Noah Mertes, Clifton Painter, Jonathan Sicher, Zachary Washburn, Harrison Whittleton.
Sicher '21 is living in Charleston, South Carolina, and plans to pursue a graduate degree in either economics, history or leadership studies.
Foster '21 is preparing to begin her master's degree studies at Old Dominion University where she will continue her economics education. Meanwhile, she'll put her skills to use immediately. "I'm going to continue to work for the Navy Exchange Service Command in the automotive department where I prepare multi-million dollar contracts and specialize in analyzing and providing insight into the automotive repair and electric vehicle charging markets."
Painter '21 is back in the U.S. after a year studying at the London School of Economics and Political Science. He is serving an internship at the Tax Foundation in federal policy and economic modeling.
"We congratulate our newest inductees and we know all of our economics students will be inspired by their example and their many accomplishments," said Economics Department Chair Dr. Gyan Pradhan.
ODE was founded in 1963. Its board of trustees includes well-known economists such as Robert Lucas, Kenneth Arrow and Robert Solow.
---