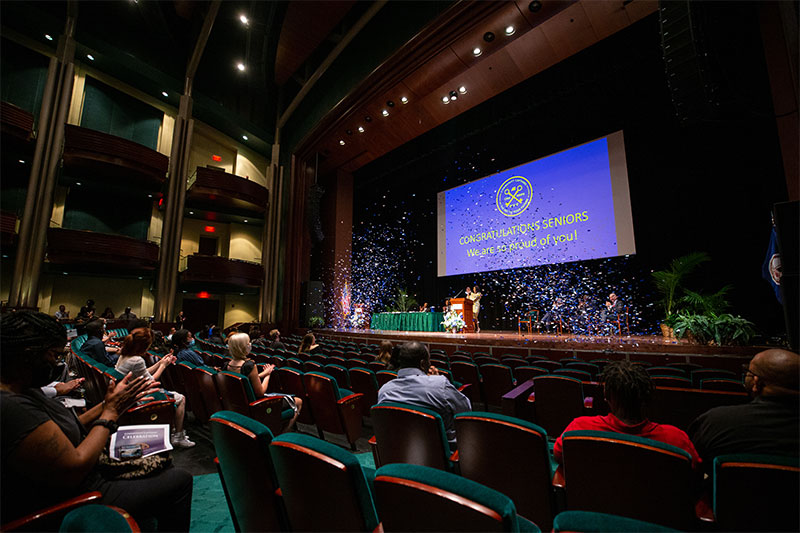 Read time:
---
The Community Captains program that links high-achieving Newport News high school students with Christopher Newport University is reaching its first major milestone.
This fall, at least 18 participants in the program will enroll at Christopher Newport as freshmen. That is among the highlights of the young program that are outlined in a report submitted to the State Council of Higher Education in Virginia (SCHEV).
Community Captains was launched in partnership with Newport News Public Schools (NNPS) nearly three years ago. The goal was to address systemic issues in the community, such as out-of-state migration ("brain drain") while promoting equity of access to higher education for first-generation college students and students from low socioeconomic backgrounds.
The university committed to providing an experiential learning opportunity for high school students by investing significant capital and human resources into the program. Community Captains – high school juniors and seniors with a minimum 3.4 GPA – received engaging, informative college preparatory workshops throughout their two-year experience while paired with a Christopher Newport student mentor. They took a challenging, tuition-free college math course taught by highly engaged faculty members. Students successfully completing the program were offered early admission to Christopher Newport with financial aid packages aimed at reducing the cost of attendance as much as possible.
Nearly 80 high school juniors comprised the first cohort of Community Captains and that group visited campus often during the 2019-20 academic year until the pandemic dramatically altered the course of the program. Those pioneering students persevered and at least 18 will be Christopher Newport freshmen in the fall. Many others in that first cohort are attending other colleges and are better prepared to thrive because of the program.
The second cohort of high school students will experience the program fully in-person and a range of events are in the planning stages to give them a full sense of campus life and academic expectations. Recruiting is underway now for the third cohort. Students at all NNPS high schools and from Achievable Dream Academy are eligible to apply. Visit cnu.edu/communitycaptains to learn more.
---