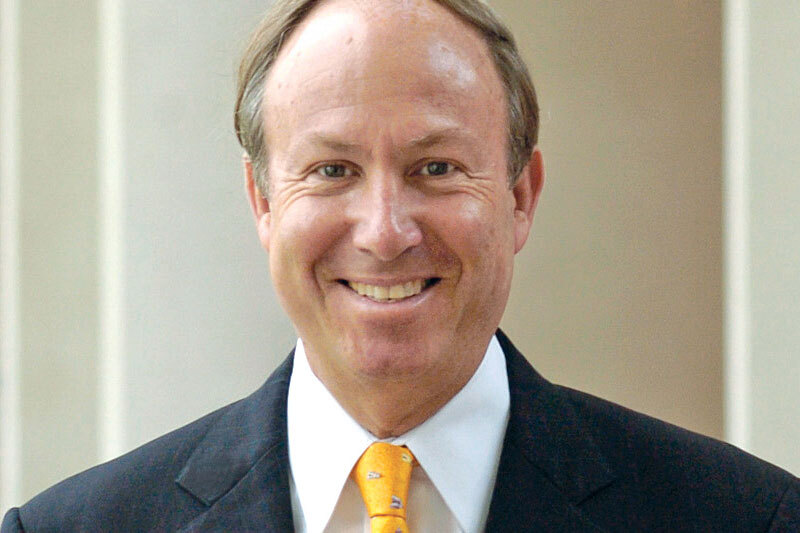 Read time:
---
After serving as a transformational president of Christopher Newport for more than 25 years, Paul Trible sent a video message to the campus community announcing his retirement at the conclusion of the 2021-22 academic year.
Board of Visitors Rector Robert Hatten announced that Trible will then take on a new position for one year with the title of chancellor, while Adelia Thompson serves as interim president and a search committee seeks candidates to be Christopher Newport's sixth president.
Hatten's remarks, delivered at a September 24 meeting of the Board of Visitors, are printed in their entirety below.
---
---
Rector's Statement to the University
Today President Trible informed the Board of Visitors that he wishes to retire on August 1, 2022. By that time Paul and Rosemary will have served this university gloriously and sacrificially for 26 ½ years. Few schools, if any, have accomplished what has been achieved on our campus during that time. Under his leadership CNU has progressed from obscurity into National prominence. Our university and our entire community will be forever grateful.
After 50 years of public service, Paul and Rosemary have certainly earned the right to a less hurried and demanding life where they can more fully enjoy their time together and time with their daughter Mary Katherine and son Paul and their spouses and four grandchildren.
In consideration of the seriousness of finding the right person to succeed Paul, the Board does not want to rush to complete a national search within the next 12 months. We need time to catch our breath, reflect on all that we have accomplished together and carefully plan where we go next.
Accordingly, we have asked Adelia Thompson to serve as interim President and CEO for the academic year 2022-2023. We are certain that Adelia will lead with the same grace, excellence and success as she did during Paul's recent sabbatical to assist Rosemary during her illness.
Although we will lose Paul as President, we don't want to lose all he knows and means to this university. To that end, we have asked that he serve as Chancellor for the 2022-2023 academic year and as such he will be available when called upon by Adelia for advice and assistance.
Paul's experience and knowledge of the General Assembly and state government, alumni, fundraising and admission will be invaluable and, of course, he is deeply committed to the success of the President's Leadership Program – that he, himself, pioneered – and our widely acclaimed academic programs in Leadership and American Studies.
In January 2022 I will appoint a search committee that will fairly represent the rich diversity of campus and include representatives of important stakeholders including the Board of Visitors, staff, alumni, students as well as community leaders. We will use the spring to get organized, coordinate with the powers in Richmond, hire a consulting firm to offer advice and assistance, communicate about the qualities important in our new leader and launch a national search.
This will be challenging. History suggests that it is very difficult to find a President who can be successful succeeding a transformational President like Paul. That is why I want to get this search underway in early 2022 so that we have more than a year to find the right person.
The next President will take office in the summer of 2023. That summer Paul's Chancellorship will end and he will serve on our faculty as the Davis Professor of Leadership and American Studies or retire to his home in the Northern Neck overlooking the Chesapeake Bay.
It is important to tell you that Adelia will not be a candidate in the Presidential search. She will serve in the Interim President role during academic year 2022-2023, and then looks forward to returning to the Chief of Staff position, doing all she can to support the Christopher Newport family, and the new leader, as we make this transition together.
We have a good plan and are committed to completing this national search with great success. As the search unfolds, we will ask the entire CNU family to offer advice. We will endeavor to make this process as transparent as possible, mindful that safeguards must be placed on personnel matters. Our charge is to ensure that the remarkable success of Christopher Newport is carried into the future with the next right leader at the helm – and we will rise to that challenge.
---