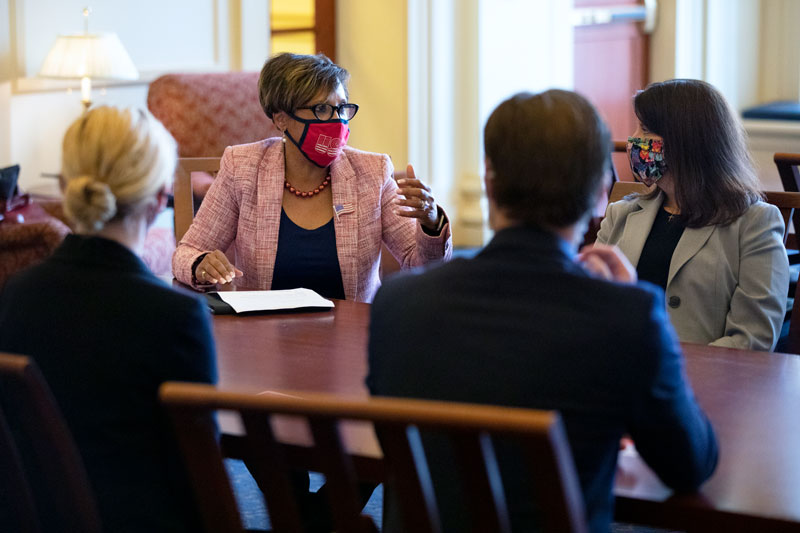 Read time:
---
Nationally renowned and award-winning author and journalist Sophia Nelson is a scholar-in-residence this year in the College of Arts and Humanities.
Nelson, who has served Christopher Newport as an adjunct professor, will meet with students in small groups, speaking in selected classes and participating in the annual Global Conference on Women and Gender set for March 17-19, 2022.
"Our students are fortunate that a leader as prominent as Sophia and with such a gift for communications has agreed to serve the university in this way," said College of Arts and Humanities Dean Lori Underwood.
Nelson will also join Underwood in leading the planned Women's Policy and Politics Leadership Center at Christopher Newport.
"I am excited by this opportunity to mentor Christopher Newport students, to share my experiences and to inspire them as they prepare to be difference-makers in our world," Nelson said.
Nelson is the author of three books. The latest is, e Pluribus One: Reclaiming Our Founders' Vision for a United America. She is a contributing editor at thegrio.com and a USA TODAY columnist. She also writes for The Washington Post as a featured contributor. Nelson is a regular contributor to NBC News and MSNBC as a legal and political analyst and appears on networks worldwide, including the BBC, SkyNews (UK) and the Australian Broadcast Network.
Prior to her work in the media world, Nelson served as an attorney in several senior positions within the government and corporate sector. She was the investigative committee counsel to the House Republican majority on the Government Reform and Oversight Committee, director of congressional and public affairs for the United States Chamber of Commerce, and senior counsel at the nationally ranked law firm of Holland & Knight LLP.
Nelson earned her bachelor's degree in political science from San Diego State University. She earned her juris doctorate degree from American University Washington College of Law. She is admitted to practice law in New Jersey, Washington, D.C. and before the United States Supreme Court. Nelson is also a proud and active member of Alpha Kappa Alpha Sorority, Inc.
---