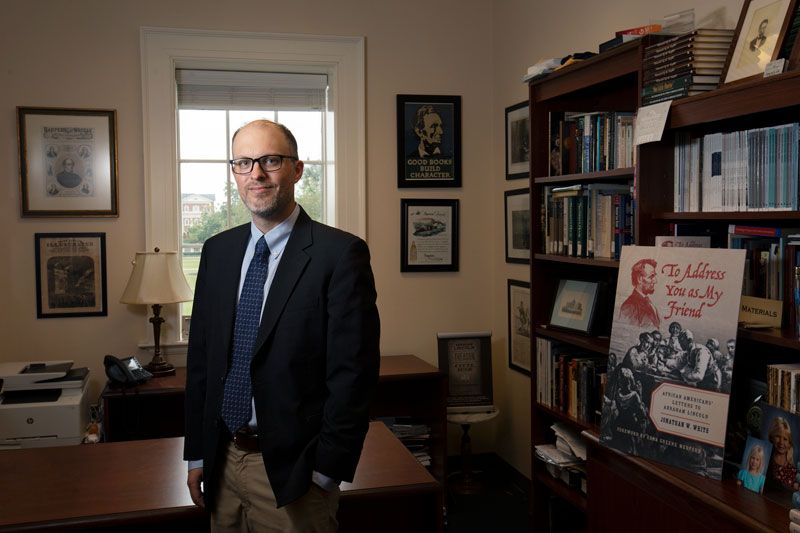 Read time:
---
One of the nation's foremost experts on the life of Abraham Lincoln, associate professor of American studies Jonathan W. White, has written three new books, two of them with the assistance of Christopher Newport students.
Alumna Maggie Byers '20, an American studies and political science double major, along with Michael Sparks '23, an economics and mathematics double major, worked with White as he researched and edited To Address You as My Friend. The book features never-before-published letters from African Americans who reached out to Lincoln for help in redressing the injustice and discrimination they faced during the Civil War. The two students assisted with the critically important work of transcribing, proofreading, contextualizing and editing the letters.
"A good number of the letter writers revered Lincoln as if he was a beloved family member, and even kept his portrait in their homes," Byers said, "It's incredible how they managed to write and send these letters, even though most had no formal education."
Sparks says being trusted by White to assist in the project feels like one of the great honors of his time so far at Christopher Newport. "I am grateful to CNU for creating the environment where an undergraduate can participate in research. It is truly an amazing experience."
White says the collection of letters is uniquely important because it's rare to uncover authentic African American voices from the 19th century. Literacy rates were low among the enslaved, so their voices were often expressed in a mediated form – typically by a white person who heard what they said and wrote it down. White says the letters are not only historically significant but also poignant, providing insight into African American life during one of the most tumultuous periods in American history.
"They pleaded with Lincoln for equality under the law when they were treated unjustly. They called on him to give them the right to vote. When they were starving, they wrote to him for money so they could feed their children," White said. "Some of the most heart-wrenching letters were written by the wives of soldiers. They were suffering without the traditional breadwinner at home, and they often worried that their husband had died."
White also worked with another student, American studies major Lydia Davis '20, in co-authoring the upcoming November release, My Work Among the Freedmen: The Civil War and Reconstruction Letter of Harriet M. Buss. The book tells the story of Buss, an educated white Baptist woman who taught former slaves in Virginia, North and South Carolina, and devoted herself to training a generation of African American teachers. "Buss' letters provide a unique glimpse into the complexity of the post-Civil War South," Davis said, "Her experiences as a teacher of freedpeople sheds light on both the successes and failures of the educational system of the time."
Davis now works as an educator at the Mariners' Museum in Newport News, where she develops and teaches history-based programs for K-12 students. "I gained so much from this project. Besides the unique experience of having a book published as an undergrad, it was an honor to help tell Buss' story, as well as those of the men, women and children she taught during her tenure." Davis adds, "I am extremely grateful to Dr. White for including me in his project, and to the Center for American Studies for providing the funding that made my work possible."
White's third book, A House Built By Slaves: African American Visitors to the Lincoln White House, will be released in February of 2022.
White is a distinguished lecturer for the Organization of American Historians, and the author or editor of 12 books and hundreds of articles and essays about the Civil War. He also serves on the boards of directors of the Abraham Lincoln Institute, the Abraham Lincoln Association and the Lincoln Forum.
---