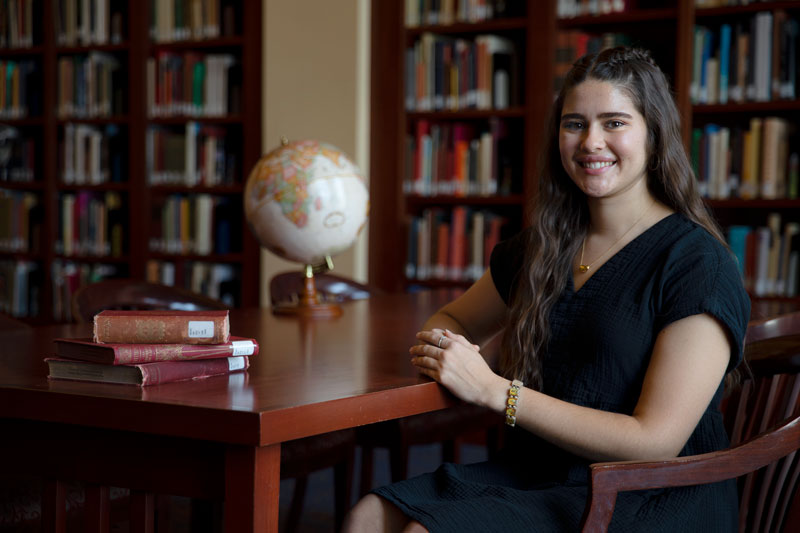 Read time:
---
Sydney King '22, a philosophy major with minors in leadership studies and political science, was appointed captain of an American student research team during her internship at United Planet, a nonprofit organization that addresses global issues in health care and environmental sustainability. King was selected as team leader because of her experience with cross-cultural communication – she's been volunteering with the Hampton Roads Refugee Relief program in Newport News since 2018, tutoring refugee children and adults.
King's team was composed of college students from across the country. The group worked with their Iraqi counterparts to research ways to overcome vaccine hesitancy among pregnant women. "We needed to determine how to share health care information in a clear, easily understandable way," King said. "Is the vaccine safe for pregnant women? If it isn't, why not? Having discrepancies in our messaging would risk derailing public health education, along with the trust agencies must build with the populations they serve."
At the end of the internship, the teams reported their recommendations to the U.S. embassy in Baghdad. The information will be used by a nongovernmental medical association in Iraq to increase the efficacy of upcoming informational campaigns about the COVID vaccine. The director of the United Planet program, Donna Lubrano, praised King's leadership, along with the work her team accomplished. "Sydney's team and the Iraqi students worked well together and were able to understand the cultural, sociological and political elements connected to vaccine hesitancy. The overall project was a success, and brought two cultures together to work toward the common goal of understanding the global impact of this virus."
King says the collaboration with Iraqi students showed her that even though they are physically and culturally a world apart, they are more alike than different. "They face their challenges, just as we Americans face our own challenges, but at the end of the day, we're all young adults trying our best to learn, and preparing to make a difference in our communities."
King is a Bonner Service Scholar, a national program where students commit to dedicating at least 10 hours of service each week to a local community organization. King works with the Hampton Roads Refugee Relief Program. There are currently 30 Christopher Newport students who serve as Bonner Scholars.
---