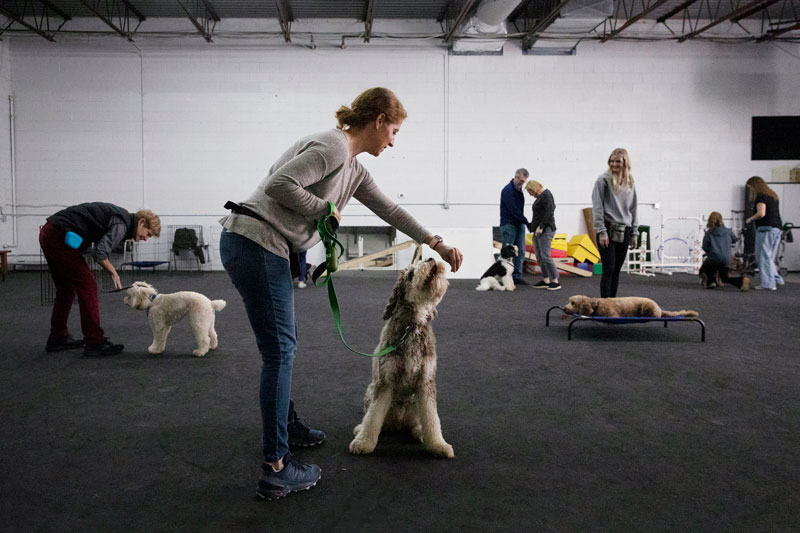 Read time:
---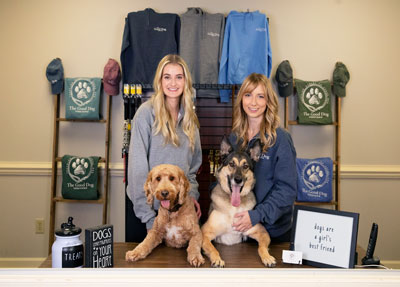 Their clients can be a little "ruff" around the edges but that's OK with Katie Eaton '18 and Morgan Strack '20. The two alums are passionate about bringing out the best in dogs, and helping to build stronger relationships between pets and owners.
"It's so rewarding to watch owners grow closer to their pets so they can not only better co-exist with their dogs," said Strack, "but also have a best friend they can take with them anywhere."
How did Strack, a marketing major, and Eaton, a biology major, end up owning a dog training facility? Puppy socialization and agility training certainly weren't a part of either alums' undergraduate studies. The two credit the strong liberal arts and sciences education they received at Christopher Newport with giving them the skills and confidence needed to jump into a new business venture.
"My area of study was animals and psychology, so I use a lot of what I learned in class and apply it to dog training. Christopher Newport taught me how important it is to get to know people and form genuine connections," said Eaton.
"Those connections I've made over the last few years have really helped me build a client base, which in turn helped us launch a successful business."
The Good Dog is also the result of preparation meeting opportunity. Both Eaton and Strack had been working part-time as dog trainers – Katie since her senior year at Christopher Newport.
When dog adoptions spiked during the pandemic, sparking an increased demand for training, the two friends began to believe their shared love of dog training could be a viable, full-time venture. But opening a new business during a pandemic felt daunting. The two knew they'd have to get creative and be multifaceted. They located a spacious, 4,400 square-foot facility and installed waterproof, agility-mat flooring for the classes. They created a retail shop and stocked it with essential training equipment such as collars, leashes and treats. They also made a space to host puppy social hours, doggy play groups and birthday celebrations. Then the alums went to work generating buzz on social media and through word of mouth, a marketing strategy that has served them well.
The training approach at The Good Dog is centered around positive reinforcement. "Dogs can't read our minds, so it's really important to show them through reward-based interactions what we want them to do. Positive reinforcement is the best way to encourage the repetition of good behaviors because it's motivating," said Eaton. "Even humans – with our complex thoughts and intelligence – need incentives to do things. When we go to work, we expect to be paid, right? So, it's not far-fetched to believe dogs also want and need some kind of reward or positive reinforcement to help them succeed."
The biggest training tip they offer: stop noticing only the negative things our dogs do. "When people first start training, whether with a professional or at home, what they seem to get wrong in the beginning is too much punishment. It's important to make sure a dog knows what it's supposed to do, not just what it's not supposed to do. And you need to consider how your actions may have nurtured these behaviors. If you give them a lot of attention when they do something wrong instead of when they do something right, it can confuse them," said Eaton.
The Good Dog focuses on obedience, agility and trick training for dogs in all stages of life. "We have a class that can benefit just about any dog in the area," said Strack. "No dog is too small, too big or too old to begin training!"
---