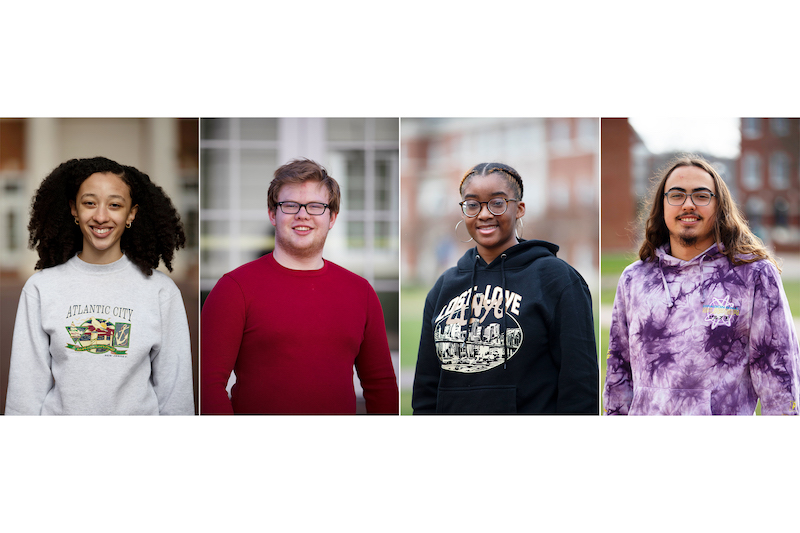 Read time:
---
When freshmen Tylicia Fields, James Becker, Debra Beverley and Christopher Mojica arrived on campus in September, they knew their way around better than most freshmen.
Finding a class in Forbes Hall? No problem.
Locating the David Student Union? Easy.
Their assuredness isn't surprising when you consider they've been a part of the Christopher Newport community since their sophomore year in high school. All four are members of the inaugural class of Community Captains, an innovative program that brings high-achieving students from nearby high schools to campus for two years of college prep and guidance.
"I love it here!" said Beverley. She intends to major in biology with the goal of practicing veterinary medicine. "Christopher Newport has done more than I would have ever expected to ensure I could attend college. I was originally planning on attending community college until I could save enough money for a four-year university, but the administration reached out to me to work with me and my mother to make sure it was affordable. Although the ultimate goal of the program was to prepare me for college, after becoming familiar with Christopher Newport, it was a no-brainer that I would become a Captain."
The Community Captains program recruits academically successful Newport News sophomores who meet the criteria determined by Newport News Public Schools (NNPS). The program helps students build the skills needed to feel confident in a college environment before they arrive on campus. They also have the option of taking a college-level course during their senior year of high school. If they successfully complete the program, they're guaranteed early admission to Christopher Newport, along with a financial aid package aimed at reducing the cost of attendance.
Becker, who also plans to major in biology, said the program helped him gain the confidence to reach out for help when he needs it. "My classes are difficult, but the professors are willing to help and listen. You have to know when to ask for help, which the program made me realize I needed to do. I'm a first-generation college student. My dad never got to complete college and my mother wasn't able to finish school to become a dental assistant, so when I get my bachelor's – and I will get that degree – I'll be the first in my family to do so."
Community Captains was launched in partnership with NNPS three years ago. An important goal of the program is combating"brain drain," according to Brandon Jones '00, program coordinator. "I want every Community Captain to have that feeling of belonging I had when I was a student here," Jones said. "The word 'community' speaks to the intention that goes into the program. I was an NNPS student that knew of Christopher Newport but didn't know Christopher Newport University. I want every Community Captain to have that feeling, especially since I was one of them. This program can pave the way for local, exceptional students to be a part of our community within our community."
For Mojica, the preparatory aspects of the program were particular highlights.
"The program definitely helped me prepare for college. It guided me through the application process, financial aid forms, scholarships and all the little things in between."
"My favorite part so far has been the people I've met here," Mojica said. "I'm a Bonner Service Scholar, and the connections I've made have had an amazing impact on me. The most challenging part so far has been staying organized and not falling behind. I've learned to use and really stick to a calendar and planner. I now have new goals, which include studying communication."
Fields intends to major in psychology. Like many college students, she's learning how to juggle her school work, and a part-time job with all the other demands on her time. "The biggest challenge I have is balancing my social life with my school life. So far I've really enjoyed the friends that I've made and the activities and events that are held on campus, like the s'mores night we had recently."
In addition to these four students, there are 15 other Community Captains currently enrolled. The program is steadily growing – next year's cohort has 60 students committed.
Learn more about the program at cnu.edu/communitycaptains
---