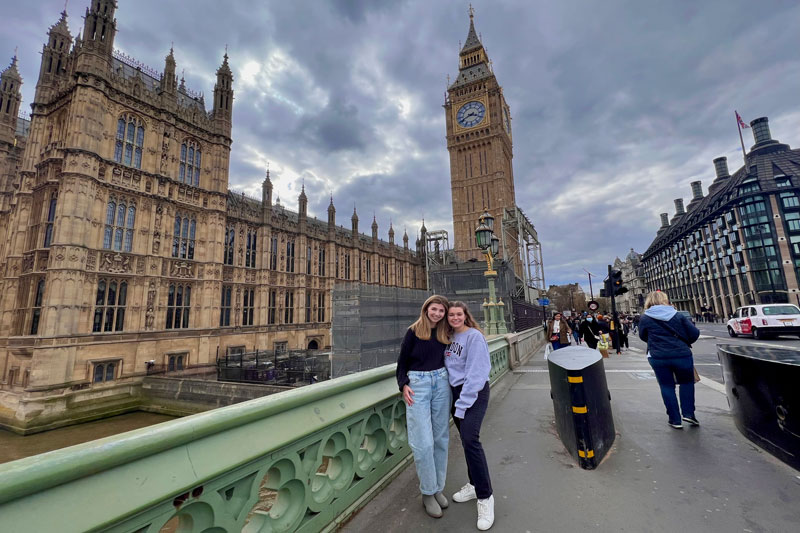 Read time:
---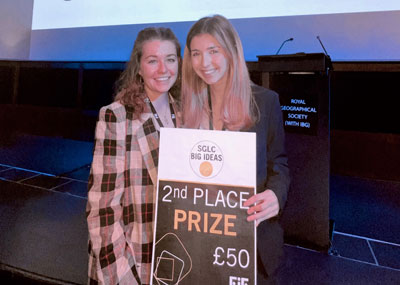 The story below was written by information science and psychology double major Brooke Nixon '22 and Claire Rooney '22, a management and leadership studies double major.
Last week, we took a three-day trip to London to represent Christopher Newport in the Student Global Leadership Conference (SGLC). As seniors approaching our final months as Captains, we wanted to find a way to show others the tools that CNU and the President's Leadership Program has taught us, and the SGLC ended up being the perfect way to do just that.
The SGLC brings together leadership students and professionals from around the world for a weekend-long conference complete with keynote speakers, research presentations and the flagship "Big Ideas" competition, which includes rapid-fire pitches and Q+A sessions addressing a unique way to take any issue from intention to action.
Our pitch came from our own lived experiences. Any senior reading this knows what it's like to navigate the job search process: overwhelming, uncertain and new. We turned our observations into a full-fledged passion project exploring and researching ways to centralize, disseminate and support accessible career planning and social support tools for students worldwide.
We found out in February that we were finalists in the competition, and our dream of traveling to London to represent Christopher Newport internationally became a whirlwind reality.
We spent weeks planning our trip, including preparing for the competition, getting flights and booking a hostel (after all, it is Europe).
We left around 5:30 on a Thursday afternoon, and with the time difference, the seven-hour flight put us in London at 6:30 local time Friday morning. After a long wait in the customs line and a quick nap in the Uber, we checked in at our hostel. Once we dropped our luggage, we walked to Imperial College London to get a little work done (and some much needed coffee) and had dinner with Kaitlyn DeHarde, a Christopher Newport student currently studying abroad in Austria and Germany who just happened to be in the UK for the weekend.
A few hours later, we unpacked our blazers and got ready for the opening keynote address from Jane Smith, the UK's first-ever elected animal rights councilor. After the address, we spent time getting to know the other attendees at a reception, entertained by a string quartet (it may sound luxurious, but don't be confused – they played One Direction). All the food was vegan and vegetarian, which Claire loved, and we got to meet and talk with students representing schools all the way from Dublin to North Carolina.
In true college fashion, even abroad we were a bit behind on homework, so we took a red, double-decker bus to a popular 24-hour restaurant downtown to get some work done, and stayed up for hours practicing our pitch for the Big Ideas competition before spending all day Saturday at the conference.
At the conference, we heard presentations ranging from navigating crisis leadership to implementing global visions into local practice. It was so cool to see everything we learned in our leadership classes applied in the presentations, and we spent any in-between time and breaks talking with the speakers and other attendees. By the end of the day, we had a quick 10 minutes to do one more practice run of our Big Ideas competition pitch in the main theater to make sure the mics, sound, lighting and slides were good to go before it was time to compete. It was hard to not be a little nervous, but all of our practicing and work leading up to it paid off.
We ended up winning second place worldwide – we were thrilled!
To celebrate, we taxied to Piccadilly Square, listened to some street performers, saw Dear Evan Hansen on the West End stage, and took the Underground (aka, subway) back to the hostel. One of the funniest things to us were the many brightly colored stores with signs noting that they sold "American Candy." We checked some out, and to our surprise, saw things like Reese's and Pop-Tarts on prominent display for £10-12 (about $15 here!)
Sunday was our day to be full-fledged tourists. The only public transportation we had not mastered yet was biking (don't ask Claire about how that went … we'll just say it didn't last long). Nevertheless, we saw Big Ben, Buckingham Palace, Westminster Abbey, the Westminster Cathedral, ate street food, took so many photos and toured some amazing museums.
On Monday morning our short trip was coming to a close, but not before some last-minute memories made by getting COVID tests for the airline, searching frantically for tape to fix Claire's suitcase, which broke on the way here and sprinting to make it to the airport gate just in time. The trip was a whirlwind of learning, new experiences and lots of fun. We are so grateful to the President's Leadership Program and Christopher Newport for supporting us in every step of the experience – it was the absolutely perfect culmination of our time here.
---