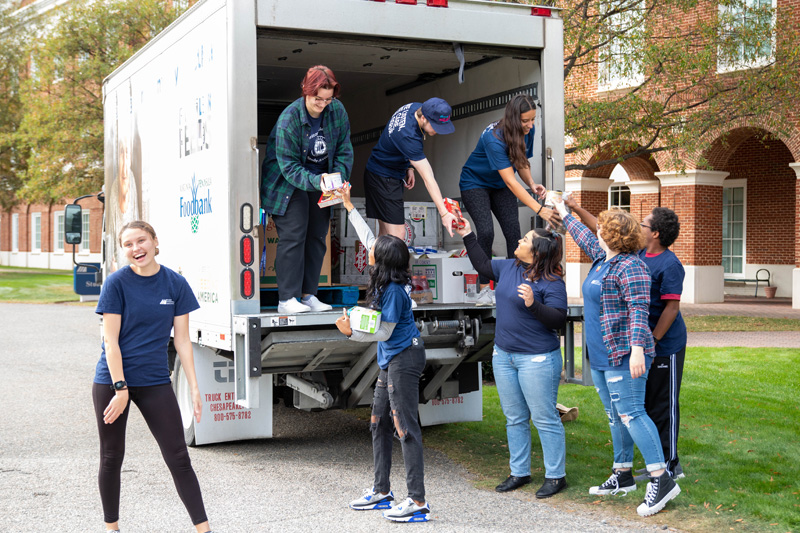 Read time:
---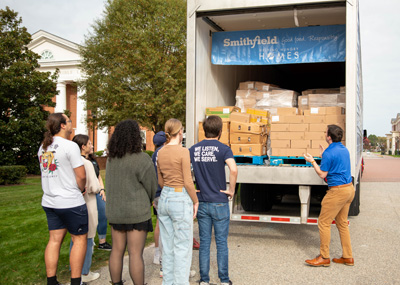 Christopher Newport's 15th annual Food for Thought campaign to fight hunger was the most successful to date, thanks to the overwhelming generosity of students, faculty and Smithfield Foods.
The drive collected 70 thousand pounds of food for the Virginia Peninsula Food Bank, including a truckload—30 thousand pounds!—of protein donated by Smithfield Foods. Smithfield Foods is a global company with local roots, headquartered just across the James River in Smithfield, Virginia.
"Smithfield foods has donated hundreds of millions of servings of protein to food banks in all 50 states across the country. But this donation is even more special because it's right here in our own backyard," said Jonathan Toms, '16, Smithfield's Senior Community Development Manager. "Every single person has a role to play in the fight against hunger. We are so proud to be able to join the Christopher Newport community to support the Peninsula Foodbank with this donation of 120 thousand servings of protein."
Each year, various groups on campus engage in some friendly competition to see who can bring in the most food for the Weight of Hunger food challenge. This year's winner was the Lifelong Learning Society, which collected over 20 thousand pounds of food.
The success of this annual drive reflects Christopher Newport's emphasis on civic engagement and service.
"Over the last 14 years, Christopher Newport has donated 340,000 pounds to the Foodbank, the equivalent of 283,000 meals," said Vanessa Buehlman, Director of the Center for Community Engagement.
"Not only is this event a chance to come together as a community and help our neighbors in need, but it also opens up really important conversation about how to address food insecurity, both in the short term as well as its root causes."
The latest data shows 1 in 8 Virginians struggle with food insecurity. The food collected from this year's drive will provide over 57 thousand meals to neighbors in need.
---