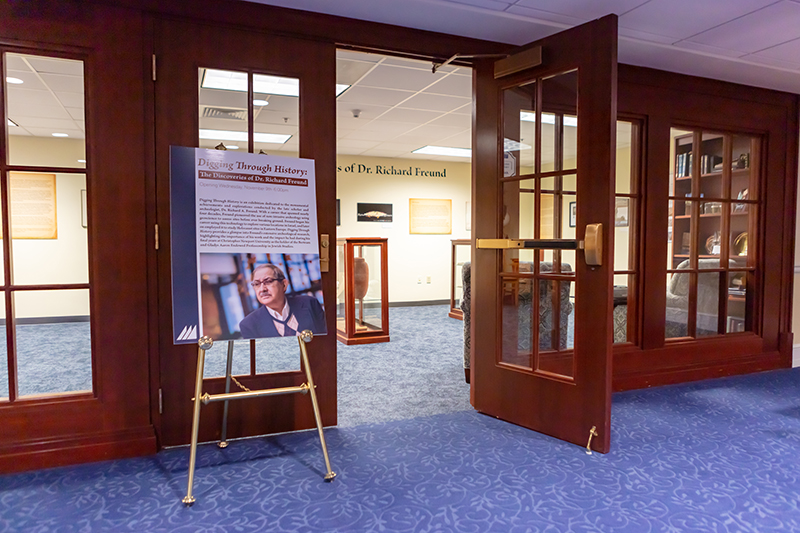 Read time:
---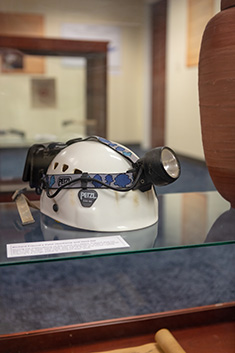 For Dr. Richard Freund, unearthing artifacts hidden deep in the ground at sites around the world equated to bringing new knowledge and a fresh understanding of history to the surface.
Freund, who was the first to hold the Bertram and Gladys Aaron Endowed Professorship in Jewish Studies at Christopher Newport University, died in July at the age of 67. A unique tribute to his decades of research is now on display in the Trible Library. The Dr. Richard Freund Exhibition showcases the treasures he found, the method he used to discover them, and what they represented to both his students and the world.
"He saw himself as a link in the unbroken chain of human, intellectual and spiritual traditions that were dutifully passed from one generation to the next," said Eliane Freund, the late professor's wife.
The impact Freund had on his students and the passion he possessed for biblical archaeology lives on through this exhibition. Freund had intended to mount the exhibition in 2019, when he was appointed to the faculty of Christopher Newport's Department of Philosophy and Religion. However, his plans were sidelined when COVID shut down the campus. Freund's family decided after his death to carry through with bringing the project he had envisioned to life.
"It was an honor for me and my family to serve as consultants for the posthumous exhibit, and to do in his memory what he himself was not able to accomplish in his lifetime," Eliane said."My late husband believed that academic knowledge had to be shared not only with colleagues and students, but also with the general public."
It was important to Dr. Freund to educate as many people as possible and use his archaeological findings as a way to bring a tangible dimension to history, one that he hoped would add context to what happens in today's world, and allow people to recognize the relevance of the past.
Vice Provost Dr. Lori Underwood said Freund found great joy in being able to enlighten students and the greater community by using his experience and artifacts to help piece history's puzzle together.
"Richard was remarkably influential on his students," she said. "He involved them in hands-on archaeological research around the world that changed their understanding of history, culture, and ethics. It was truly the epitome of educating hearts and minds.
In the eyes of Caroline Hayes, '23 mathematics, Freund played a huge role in helping to shape her worldview. Hayes shared in Freund's passion for archaeology, and was among the group of students who went on a life-changing Holocaust site expedition to Lithuania that Freund planned in 2022.
"I am so lucky to have had classes with him and to have been invited to do research with him. I truly feel that our work has made a positive impact on the world," Hayes said. "His classes and research opened my world, and reminded me how important it is to tell the stories that have otherwise been buried. I saw firsthand so many people come together to uncover the truth about the men and women who were persecuted during the Holocaust."
The exhibition pays homage to both Freund's academic and professional accomplishments. Freund conducted more than 30 archaeological expeditions. He brought to life Jewish history using artifacts he discovered deep in hallowed ground throughout Europe, including Holocaust sites in Poland and Lithuania. Among his team's most notable finds was the discovery of what was said to be a 100-foot escape tunnel in the Lithuanian Ponar Burial Pits that 80 Jewish prisoners dug mostly by hand to flee from Nazi execution. Many of the artifacts that Freund discovered during these excavations are on display.
"In my heart, I know Dr. Freund would be very pleased with the beautiful exhibit that showcases many of his works," Hayes said. "When I walked through the exhibit for the first time and saw the pictures of archaeology expeditions he told us about in class, I could almost hear him talking about how steep it was, or his favorite finding of that location."
Mikaela Martinez Dettinger, '22 political science, accompanied Freund on one overseas archaeological expedition and went on another he coordinated. The focus of the digs were Holocaust burial sites in Latvia, Lithuania and Poland.
"I was fortunate enough to work with Dr. Freund on a few of his research trips, and was able to experience a small portion of the vast amount of research he had done," she said. "The exhibit at CNU is a wonderful sampling of his most important works, curated to highlight the public-facing aspects of his research. His documentaries and lectures really show how much he prioritized teaching."
Freund was not only known for the success of his digs, but also for the cutting-edge way in which he conducted them. Freund used non-invasive archaeology technologies ‒ Electrical Resistivity Tomography and Ground Penetrating Radar ‒ that allowed him and his team to identify and map out sites and burial remains without being intrusive to what lay underground.
Emily Ransone, '22 art history and studio art, helped mount the exhibition and was impressed by Freund's non-invasive techniques.
"The field of archaeology has a notorious reputation for being destructive and invasive. What struck me about Dr. Freund's work was how he utilized advancements in geoscience to conduct research and analyze sites in a non-invasive manner," she said. "This type of non-invasive archaeology and ethical consideration became crucial when Freund began to conduct research at various Holocaust sites containing human remains."
Not only did Freund impact the Christopher Newport community, he also touched the community at large, Underwood said.
"Dr. Freund was vitally important to our community. He was an integral part of our Jewish community," Underwood said. "Quite simply, he deeply touched the lives of nearly every person he met because he cared."
Sharing his knowledge and fervor with others in the classroom, at archaeological sites or out in the community was paramount to Freund's mission.
"It was his passion to ensure that research, especially important research such as his, was not contained to the ivory tower," said Martinez Dettinger. "He wanted his research to be available for the public to learn about in a digestible way. This, to him, was the purpose of doing research. He always explained to me that research is most valuable when it can help everyone to learn, not just those in higher education.
"The exhibit of Dr. Freund's work is not just a representation of his value as a researcher, professor, and mentor," she said. "It is also a continuation of his work. The exhibit is his way of continuing to share his teachings with the public."
Eliane Freund hopes her husband's research and dedication will inspire students to continue searching for answers and clues to questions about how historical events unfolded and impacted people's lives and communities so many years ago, and how that history affects the world today.
"Our understanding of history should be an ongoing, evolving process," said Eliane. "As new technologies emerge, and more evidence comes to light, previously held ideas and concepts about past events in human history should be re-evaluated based on new discoveries. As an archaeologist, my late husband modeled this approach for his understanding of history."
---