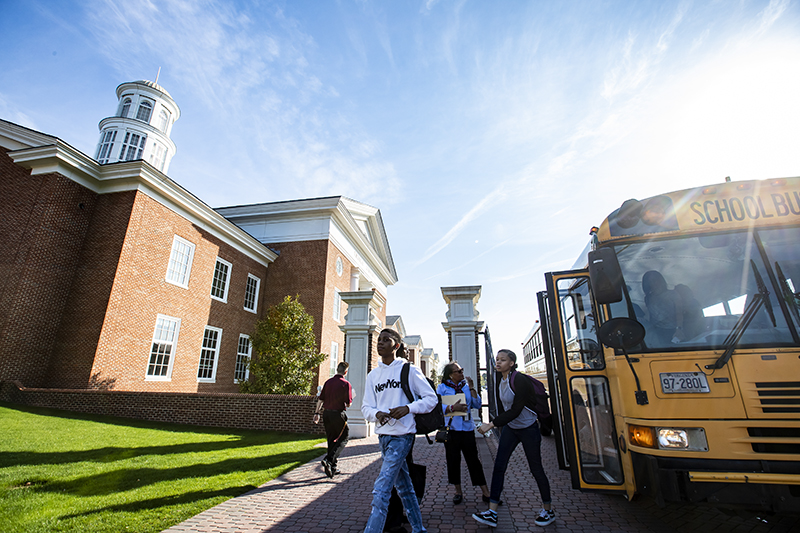 Read time:
---
Sixty Newport News Public Schools (NNPS) students are getting a first-hand look at the college experience years before beginning their life on campus.
The second cohort of the Community Captains program is participating in the early admission, two-year college preparatory experience. It is a unique partnership between Christopher Newport and NNPS.
During their years in the program, the Community Captains have on-campus learning opportunities, are paired with Christopher Newport students who act as mentors, and receive guidance and support through all aspects of preparing for college. As high school seniors, they will have the option of taking a free statistics class and earn college credit. If they maintain their 3.4 GPA and fulfill all program requirements, they will be offered final acceptance to the university.
A virtual event formally welcoming the high school students into the program highlighted some of the work the second cohort has already been engaged in. The students have met their mentors, participated in a virtual workshop with the Center for Academic Success and heard from five current first-generation Captains about their experiences. Current participants and CNU mentors also discussed the importance of the college experience and finding one's community.
"We are eager to welcome these well-qualified Community Captains to Christopher Newport University," said President Paul Trible. "We are committed to doing everything in our power to help these students learn and grow while we deepen the bond between our university and the city that we call home."
Added NNPS Superintendent Dr. George Parker III: "We are pleased that more NNPS students will have the opportunity to attend CNU, a nationally ranked institution that we are fortunate to have in our community. The Community Captains program offers numerous advantages to our students, including ongoing mentorship by CNU volunteers, a chance to learn about and find financial aid, early admission, and the ability to experience a class at CNU."
"Community Captains offers our students a way to connect with Newport News students and our community," said Dr. Angela Spranger, chief diversity, equity and inclusion officer. "We are excited to help these young people prepare for college with these exciting opportunities."
---