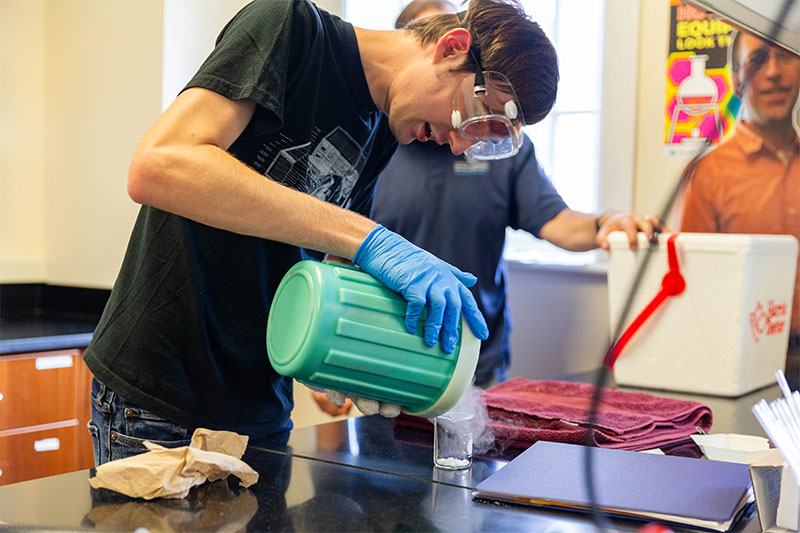 Read time:
---
William Kessler could be helping create the next drug to help combat Alzheimer's and diabetes.
A Summer Scholar, Kessler has been working in a lab at Christopher Newport this summer to synthesize compounds found in an evergreen tree that grows only in China and possibly holds huge potential for being at the root of new medicine that could change people's lives.
Kessler, '24 music composition and chemistry, is recreating the molecules found in the tree, called Torreya yunnanensis, in hopes of advancing the research and determining its possibilities for use in pharmaceuticals. It is the first step in the process, as the research results will determine whether it should make its way to more specialized laboratories for further study.
"Before a much more thorough study of their medicinal properties, a method to make them in the laboratory is absolutely necessary," said Dr. Jeff Carney, chair of the Molecular Biology and Chemistry Department. "Matching properties of our laboratory prepared molecules to the natural molecules would not only confirm their structure, but it would also demonstrate a method to access the molecules in larger quantities than previously available.
"This would allow our or other laboratories that wanted to explore their medicinal potential the ability to develop them as potential drugs," he said.
The Summer Scholars program is an eight-week, in-residence program that brings students and faculty together to work collaboratively to answer a research question. Scholars receive a housing allowance and stipend.
Kessler has immersed himself in the research. He is on a quest to discover all he can about the molecule, figuring out how to build it out of synthetic materials and putting it through tests that measure its reactions when exposed to different properties. There is not enough of the plant to permit mass production, so to recreate it synthetically could make it usable in the world of medicine.
"We're looking for the first laboratory synthesis of a compound isolated in nature. When it was first discovered by scientists, they screened it against a number of different enzymes and found that there are some potentially really interesting medicinal applications. So, being able to synthesize it in a lab would allow us access to those compounds much more conveniently, much more efficiently than trying to access it from nature," Carney said.
Kessler and Carney, who conduct their work in a lab tucked in Forbes Hall, have joined forces to successfully advance the research, which will be ongoing.
The scope of the project is ideal for Christopher Newport, which is unique in that it has undergraduate students performing research that at many institutions is done only by graduate or postdoctoral students, Carney said. Research is one of the four pillars of a Christopher Newport education.
"These molecules and this project are the right fit to allow us to focus on understanding each reaction step deeply, rather than focus on rushing to the finish line," Carney said.
The hope is that the findings will eventually be published, and the foundation of Kessler's research used in the next step of development.
"William's specific work this summer is the optimization of one of the most important chemical steps of the entire synthesis," Carney said. "He has found that under simple reaction conditions, molecules with the wrong three-dimensional structure are formed. By adding specific reagents (substances added to a system to create a reaction), William has successfully applied our chemical understanding to reverse that result and make the desired molecules. The correct three-dimensional structure is vital to making the molecules and also likely to be responsible for their biological properties."
For Kessler, a flutist, the scientific work has been intriguing, challenging and satisfying. As a musician, Kessler has enjoyed using his creative side to think about different ways to analyze and study synthesis of the molecule. The project has allowed him to marry his two interests. He has found parallels between the synthesizing process and composing music, as both require attention to detail, creativity, and the ability to bring many pieces together to develop the final product. In the end, the result is a piece that resonates, either in the form of a performance or a chemistry discovery. Kessler approaches his work like he's making music in a lab.
"It's a good fit for me," said Kessler. "It's been both very creative and very in depth. There's a large amount of information to learn. It appeals to me as an artist as well."
Carney and Kessler have worked together to draft a composition of sorts, not around musical notes, but one that centers on flasks, molecules and discovery. The resulting tune, they hope, will be one that moves the medical world in a positive direction. The two share a passion for learning and a deep sense of curiosity.
"I think that what Willam has brought this summer has been really helpful in that he's a really deep thinker and students in the past sometimes have been more enticed by trying to get through things quickly," Carney said. "William likes to take the time to stop, ask questions, and it's given me an opportunity to talk things through and think about what the next steps are that need to happen to answer some of the questions that we have."
As questions emerged for Kessler, Carney was able to answer them and use them to help craft opportunities to move the research forward.
"Dr. Carney is a really great mentor," Kessler said. "I am the kind of person who asks a lot of questions. Dr. Carney has been able to give me a huge amount of information and depth into fully understanding what's going on here."
Kessler is not sure what career path he wants to follow after he graduates, but he is confident that the work he has done in Carney's lab will propel him forward.
"I'll definitely work as a chemist for the rest of my career. But I'm not entirely set on whether I'll do straight organic chemistry, the grad school thing, or whether I'll be a regular chemist working at a factory somewhere," he said. "Regardless, it's all so very applicable and I know I will use what I have learned. I am very grateful for this opportunity."
---